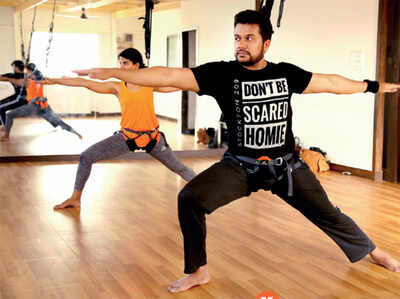 By Barkha Kumari

Bored of the usual strength training, swimming and running? Try these offbeat workouts and movements
Be a Ninja
You have seen Ninja warriors in films doing those cool, gravity-defying stunts and wished you could do it too. Well, you can, because this fitness studio offers what it calls Ninja Movement Training (NMT). Stealth methods and swift movements are the specialities of a Ninja, and you can achieve this by training in Parkour, freerunning movements and Calisthenics. Developed from military obstacle course training,
Parkour
lets you get from one point to another in the fastest way possible, be it climbing, vaulting, rolling, or crawling. Calisthenics is essentially gymnastic exercises and involves bar or ground workouts. "The idea behind NMT," says Delson Joy D'Souza, cofounder-trainer at this studio, "is that you can get a good workout just by doing movements. For instance, 10 flips are equivalent to 15-20 minutes of a full-body workout.

And Parkour is the ultimate test of fitness. That's why when you come to us, we first give you a trial session and assess your fitness level." So while this
programme is designed for intermediate to advanced athletes, even kids of the age of six to 12 can sign up for junior NMT classes.
Unless you've been living under a rock, you know about bungee jumping. Now try the workout version of this adventure sport – BungFly. As the name says, this workout allows you to exercise while being attached to a
bungee cord
which is suspended from the ceiling. You wear a harness which is similar to what you would wear if you were
bungee jumping
or doing mountain/rock climbing. The harness is strong, adjustable and can comfortably fit most people. The concept of BungFly, says trainer Aastha Gulati, is that it allows the body's core to be deployed in a way that is difficult to achieve in a traditional gym setting or through other exercises. The pelvis drives most of the movements, which allows the mid/core region to get the workout that it needs. "Since you wear a harness around your pelvis, the pelvis faces the maximum resistance as you take off or land, and gives it a great workout. Equally critical is to keep your body aligned at all times," she says. So BungFly is a great bet for anyone with back issues or core strength troubles. There's no one set routine for everyone, and the exercises usually differ from person to person based on their fitness goals and physical capabilities. The exercises can span from Bungee Bounce to Downward Dog, Push-ups, Titanic, Star Jump, Warrior 2 and Tarzan, or you can do an assortment of planks, cardio and yoga moves, with the tension of the bungee cord providing resistance to your movements.
Forget the treadmill,
bench press
or those ropes. Get yourself a stool instead. More often than not, Gyrokinesis, a movement method, starts on a stool (16 to 20 inches tall), and progresses to complex and agile movements done while sitting on the floor or standing. In principle, it boosts the mobility of the spine, and opens up the tightness in your joints, lubricates them and proofs them against wear and tear. This is achieved by exercises that apply twin, opposing forces on each joint i.e. pulling them wider while also pushing inside. "This opens up the joints, makes them flexible, and increases their longevity," notes trainer
Sneha
Krishna. It's a particularly good workout for those looking to rehabilitate from sports injuries, or those looking to condition their body before a sports season. Another big component of Gyrokinesis is breathing. "It's not about just breathing from the neck, shoulder and your lungs, but using the entire body in the process, and we don't do that anymore. Just breathing right can open up your body and allow for greater movements," Krishna points out.
https://bangaloremirror.indiatimes.com/opinion/others/gazing-outwards-from-the-margins-we-can-push-in/articleshow/65465266.cms
Click Here For More Articles
Don't forget to opt-in to Our Healthy Living Society and get 3 free gifts while receiving the latest information on health, well-being and groundbreaking news about natural nutrition.