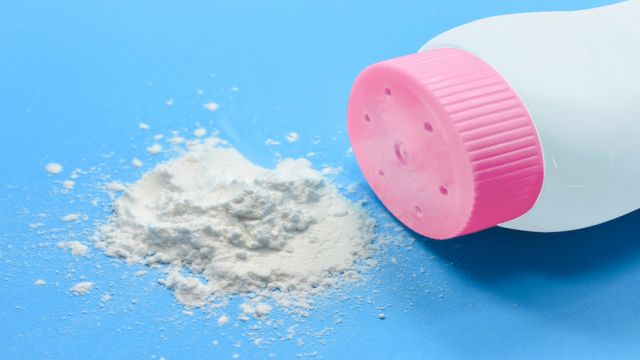 Magnesium silicate is comprised of finely ground particles of stone. It originates in the ground and is a mined product, so it can be contaminated with other substances. In its raw state, talc contains asbestos. Asbestos is a known human carcinogen that
causes cancer.
According to the
World Health Organization
, there is no safe level of asbestos. While it is true that most people do not develop cancer, it is also true that even exposure to very small amounts can trigger cancer years later.
Johnson & Johnson (J&J), a leading manufacturer of baby products including baby powder, have been slammed with thousands of lawsuits over the past several years. These lawsuits allege that the talc used in their Baby Powder have caused cancer. The company has been ordered to pay massive damages to plaintiffs. The largest settlement is a
record-setting $4.69 billion
to 22 women who claimed that talc found in J&J Baby Powder led to ovarian cancer.
Thousands of other similar suits are in litigation, but this might not be the worst of it for the company.
Did this investigative report uncover a dirty truth?
Despite the fact that J&J adamantly declare that their product has never contained asbestos and is safe, a report published by
Reuters
set out to prove differently. According to the recently released report, Baby Powder tested positive for asbestos on a number of occasions over decades and company officials turned a blind eye to the truth.
Immediately following the release of the report, J&J went into defense mode, taking out a full-page advertisement proclaiming its product safety practices, to mitigate damage from the allegations.
"If we had any reasons to believe our talc was unsafe, it would be off our shelves,"
On the heels of the report, company stock dropped like hotcakes, and J&J scrambled to buy back $5 billion of its common stock.
Senator Edward Markey, a Democrat on the Environment and Public Works Committee, called for the U.S. Food and Drug Administration to investigate the findings highlighted in the Reuters report to determine whether or not J&J misled regulators regarding the safety of its Baby Powder.
J&J Chief Executive Alex Gorsky responds to questions on safety
"Since tests for asbestos in talc were first developed, J&J's Baby Powder has never contained asbestos," Gorsky said in the video here. He added that regulators "have always found our talc to be asbestos-free."
'We unequivocally believe' our baby powder does not contain asbestos: Johnson & Johnson CEO
from
CNBC
.
Asbestos revealed in "hidden" reports
Reuters revealed that reports from a consulting lab in 1967 and 1958 describe contaminants in talc coming from J&J's Italian supplier as being "fibrous and "acicular" or needle-like tremolite". This mineral in its fibrous form is classified as asbestos.
Throughout the years leading up to the early 2000's various reports from company scientists, outside laboratories and suppliers
revealed similar findings.
These reports either name contaminants outright as asbestos or describe them in terms that are known to be asbestos.
While the U.S. Food and Drug Administration was discussing the presence of asbestos in cosmetics containing talc, J&J
stated
that there had been no asbestos found in samples of talc that was produced between December 1971 and October 1973. What they failed to reveal was that three tests – all from different labs – between 1972 and 1975 found asbestos in their talc – in one case it was reported to be found in "
rather high" levels.
Reuters reports that internal testing from J&J show that no asbestos was found. However, traditional testing methods at the company have used only
small portions
of talc which would not necessarily reveal contaminants. The report also notes other inadequacies in testing that may have resulted in warped results.
What are the proven dangers of talc and asbestos


The
Organic Consumers Association
refers to a
study
which found that women who used talc just once a week had a 36 percent higher risk of ovarian cancer than those who did not use talc. Everyday use boosted the risk to 46 percent. Researchers warned that particles travel to the ovaries causing an inflammatory process to take place that encourages cancer cell growth.
The
American Cancer Society
reports the following information:
In 1997 a published study found that women who applied talcum powder to their

external genital area

or used feminine deodorant sprays had a 50 to 90 percent higher risk of ovarian cancer.

A

study

done in 2000 found that there was a 40% increase in one type of ovarian cancer (invasive serous) in talc users.

A

33 percent increase

in ovarian cancer risk was found in a meta-analysis among people using talc in 2003.

Lung damage

and cancer have also been reported by workers who have inhaled talcum powder for extended durations of time.
The issue with latency
Like many toxins, asbestos has a latency period. This means that diagnosis of conditions like
mesothelioma,
a type of rare lung cancer, can develop as much as 20-50 years after exposure to asbestos.
This means that while J&J may claim their products are safe to use today – the real issue is, have they been safe for the last 50 years?? A 2013
markup statement
of the
"Safety and Care Commitment"
on the company website clearly shows some concern.
"Our talc-based consumer products are and have always been (we cannot say "always") asbestos free, as confirmed by regular testing since the 1970s."
We have just skimmed the surface on what was revealed in the Reuters investigation, and it is likely that there will be further investigation prompted by the report. Stay tuned!
All Natural Alternative
If all of this information has you a bit unsettled about using Baby Powder, the good news is that there is a safer alternative and the best part is that you can easily make it at home. This product is safe to use on anyone over 3 months that does not have broken skin.
Ingredients
4 tablespoons white kaolin clay or bentonite clay

4 tablespoons arrowroot powder

6 drops chamomile (Roman or German) essential oil (use100% pure Roman chamomile)

6 drops lavender essential oil (use 100% pure lavender)
Instructions
Combine dry ingredients and stir.

Drip the essential oils into the dry mixture and stir.

Transfer to a shaker bottle.
-The Alternative Daily
Click Here For More Articles
Don't forget to opt-in to Our Healthy Living Society and get 3 free gifts while receiving the latest information on health, well-being and groundbreaking news about natural nutrition.