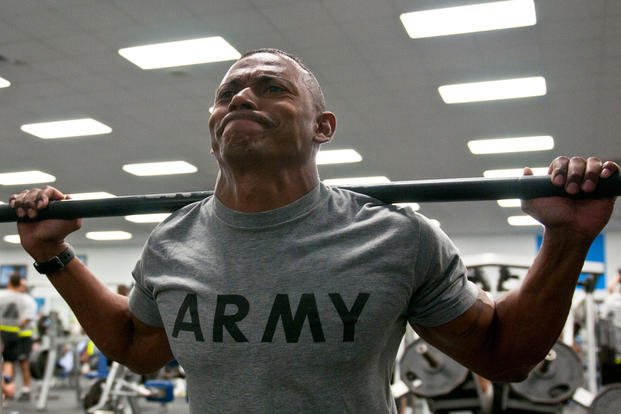 Quite often people find a workout they like or remember it working for them in the past and stick to it with good short-term results. However, if the goal requires to optimally score on competitive selection program PT tests or preparing for more than the test (boot camp, basic, military/police / fire academy) you need to add variety to your training in order to avoid plateaus and continue the positive growth curve.
Hi Stew, I've heard great things about your training program. I've been running and doing a lot of body weight exercises. I have noticed very little changes even though I constantly change my workouts. I just can't seem to make any progress even with a 5 day a week workout program. Any advice would be great. Respectfully, Jake
The above workout week changes the workouts daily and each upper body day - though similar in exercises (pushups, situps, pull-ups, etc) they have completely different choreography that yield better results (
PT Pyramid
,
Super Set
,
Max Rep Set PT
Progression).
For instance: Don't do the same old workout every other day (or daily). Don't do the same run workout every other day (or daily). These type of workouts might work for a few weeks, but in the long term, you will crash hard with injury or negative results typically. PT needs more variety to help with growth and EVERY OTHER DAY.
DO NOT DO DAILY
calisthenics exercises.
People usually start to see plateaus or negative results after daily repetitions of the same exercises back to back to back days. Same with running - if you are doing the same "3-mile loop" every day, you will get good at slow 3 mile runs. But faster 1.5, 2 or 3-mile timed runs need some speed work to help. The same goes for the exact same workout even if done every OTHER day. Variety is the spice of life - so SPICE it up!
Ideas:
Training for timed runs
– If you are focusing on training for timed runs, you need to mix in a fast tempo day or two, a goal paced day where you "learn" your goal pace, and maybe a long distance day per week. Build up to 4-6 days of running per week over time and add mileage each week to the tune of about 10-15% each week. Don't just jump into a high mile run on week 1 of training.
In the end, look at your
recovery
. Are you getting enough rest, eating/hydrating well before, during, after workouts? These are the questions that most people do not consider when thinking about their optimal performance. But these issues (food, hydration – water/electrolytes, rest, sleep) are critical to optimal performance and continuing a positive growth curve to calisthenics, running, as well as strength training in the weight room. In fact, you may have the perfect workout programming, but miss out on any of the above recovery elements and you will start to see negative growth or progress plateaus.
Stew Smith is a Navy SEAL Veteran who supports the Tactical Strength and Conditioning program of the National Strength and Conditioning Association and is a Certified Strength and Conditioning Specialist (CSCS). He also has over 1000 articles on Military.com Fitness Forum and 100 Podcasts focusing on a variety of fitness, nutritional, and tactical issues military members face throughout their career.
Click Here For More Articles
Don't forget to opt-in to Our Healthy Living Society and get 3 free gifts while receiving the latest information on health, well-being and groundbreaking news about natural nutrition.