Like many people, I fall in and out of exercise mode. About a lifetime ago, I was a certified Spinning instructor. I did a triathlon. I yoga'd. And then I quit exercising for a decade.
Last year, I bought a treadmill and plunked it in my basement (actually I prefer to call it my "garden-level workout facility"). I felt comfortable with this arrangement because only the centipedes witnessed my struggle to get back in shape. Also, exercising in private meant I could wear whatever I wanted – including torn leprechaun boxer shorts and ridiculously mismatched socks.
I walked and ran diligently on my basement treadmill for months – and got a lot of laundry done in the process – but when I heard about something called
Orangetheory Fitness
, I was instantly intrigued. Intimidated, but intrigued. I also thought it might make an interesting story, so I signed up for one class.
I admit it seemed gimmicky at first, but I went anyway. After all, I once got a colonic just to write an article about it, so I could definitely make it through one trendy fitness class.
Orangetheory Fitness is a franchise based in Boca Raton, Fla. Kevin Scharnek opened the first Orangetheory in Wisconsin four years ago in Brookfield. Today there is also a Shorewood location, where I took eight classes, and soon locations will open in the Third Ward and Wauwatosa.
"In short, Orangetheory provides personal training in a group environment," says Scharnek. "The workouts are always different, always engaging and always challenging for athletes of all levels."
The Orangetheory concept is based on combining fitness, science and technology. The classes are led by a coach and comprise a combination of rowing, strength training and treadmills. Participants wear heart rate monitors and attempt to get their heart rates into the "Orange Zone" for at least 12 minutes during the 60-minute workout. If this is achieved, Orangetheory says the body will experience something called "afterburn," which increases the metabolism for 24 to 36 hours.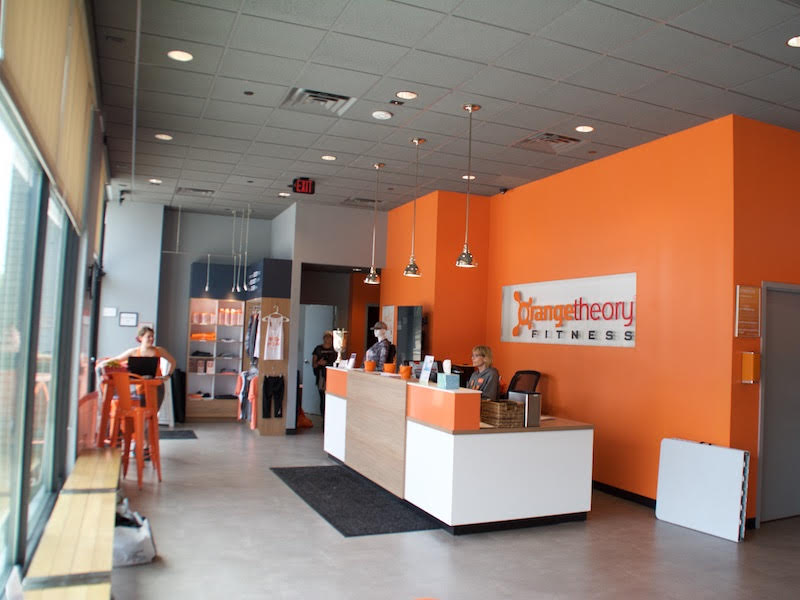 "Orangetheory is about fitness and science, but mostly, it's about relationships both between coaches and class members and our relationship with ourselves," says studio manager Kristi Glocke.
When I showed up for my first class I was prepared to feel like an outsider in my black leggings, black concert T-shirt and bare arms adorned with tattoos. (Maybe the headline of my story should be "Goth goes to the gym.")
I also wondered if I would be the oldest person there – I'm in my mid-40s – and most likely the only one who had eaten a pizza at midnight the evening before.
However, I was immediately relieved to see that the other class members ranged in age, style and body type. The majority of them were women, and everyone seemed pretty laid back. Plus, I instantly got a warm feeling from the staff. Every Orangetheory employee I came in contact with, from the counter folks to the coaches, had a genuineness about them that comforted me.
Maybe I wasn't going to be the first person to get blacklisted after one Orangetheory class for utter spazziness.
The class coach, Kristin Johnson, introduced herself and helped get me accustomed to every aspect of the hour-long workout. During most classes, half of the group starts on treadmills and the other half on rowers and strength training equipment, and then the groups switch. Basically, the coaches simultaneously and miraculously teach two different classes at once.
At first, I didn't understand a lot of what she was saying – Orangetheory has a language of its own – but I just copied other people (and after three classes I was conversational if not fluent in OT).
"My goal is to build relationships with each and every class member and provide a challenging, but at the same time a very supportive, environment," says Johnson.
I particularly appreciated how Johnson is indeed extremely supportive without being annoyingly perky. She is very present while teaching and acknowledged times when I really was pushing myself. The sincerity and timing of her encouragement really inspired me to keep going, to try harder.
The coaches also make suggestions how to modify the workout to make it easier or more difficult, depending on personal skill level. (And whether or not you ate a pizza at midnight the night before.)
Participants monitor their progress via heart rate monitors synched to a large screen. I thought this aspect of the workout would bother me because everyone could see my name and how hard – or not so hard – I was working out. However, because the vibe of the classes genuinely feels more supportive than competitive, it didn't embarrass me in the least. (And I admit to comparing my numbers to other people's, but only for a second here or there and was able to swiftly move beyond such pettiness.)
The Shorewood Orangetheory hosts about 70 classes a week, and every single workout – 364 days a year – is different (it's closed on Christmas). Interestingly, the daily workouts are exactly the same at every franchise in the world. This means that if you take the class in Milwaukee, your sister in Atlanta or friend in Portland is taking the exact same class.
The cost of Orangethoery classes range, depending on if a participant chooses to buy the classes individually or as a membership package and how often they attend. Classes average between $8-$12 per class depending on the membership level whereas class packs will average $18 per session. There is a 30-day cancellation policy and anyone interested can try a class for free.
Overall, I found the Orangetheory workouts extremely challenging, but also kinda – dare I say it? – fun. After every class, I was definitely sore the next day, but I felt really good at the same time because I was accomplishing something positive for myself.
I'm not exactly drinking the Orange Kool-Aid, but I plan to keep going. I didn't think I would feel comfortable working out beyond my basement, but I do. I thought I would find Orangetheory just a trendy gimmick – and maybe it is – but it works for me.
I think that's the best it gets for those of us who don't love fitness but don't want to look or feel like a person who doesn't love fitness either. We find what works and we show up, over and over and over again, and on days we don't feel like it, we remind ourselves to, like it says on the orange wall, "Think about why you started."
Click Here For More Articles
Don't forget to opt-in to Our Healthy Living Society and get 3 free gifts while receiving the latest information on health, well-being and groundbreaking news about natural nutrition.