Veganism continues to experience sustained growth
More than 3.5 million (7%) UK residents are now vegan and 14% are vegetarian according to new research.
The statistics show a substantial increase since those published by The Vegan Society and Vegan Life magazine in 2016, which revealed there were roughly 540,000 vegans over the age of 15 living in Great Britain.
The research was conducted by UK company
CompareTheMarket
and supported by the Professor of Environment Carolyn Roberts at Gresham College.
The new research suggests many people are ditching animal products in a bid to help the environment, and according to Professor Roberts dietary changes could be the best way to achieve this.
Professor Roberts said:
"Environmental issues continue to rise up the national agenda.

"However, and quite naturally, the desire for change does not always translate into genuine action, as other priorities can overwhelm many of us, particularly those in with demanding jobs and families.
Roberts believes that a shift in diet might even be more environmentally beneficial than other eco-friendly measures, such as reducing petrol and diesel car-usage.
"Giving up driving may be practically impossible for many of us with work to get to and a family to support.

The good news is that more practical changes, such as a shift in diet, could be a superior solution to having a positive impact on the environment."
It's not just Professor Roberts who recommends this - the United Nations has long been advocating for a
global shift to a meat and dairy free diet
in order to save the world from the worst impacts of climate change.
Fortunately people are starting to get on board.
This year Veganuary.com, an organisation that provides resources to help people adopting a vegan diet in January (as well as throughout the year) noted that this they had experienced a
huge surge in signups
, reaching almost 180,000 - up from 59,500 last year.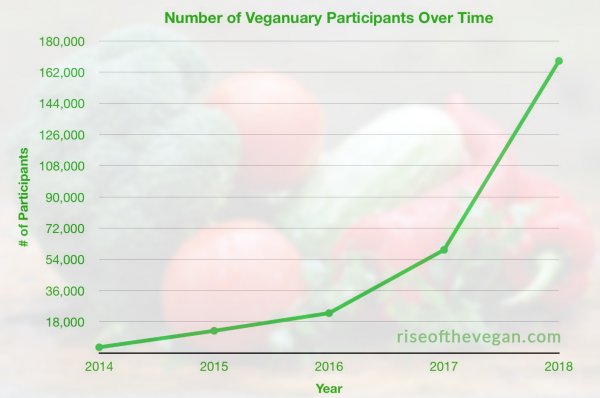 Amongst the UK's 3.5 million vegans are a number of high profile celebrities such as Lewis Hamilton, Ellie Goulding, Paul McCartney,
International rugby star Anthony Mullally
and world champion heavyweight boxer
David Haye
, whose advocation of veganism has helped shift the diet from a niche subculture into the mainstream.
Increasing consumer awareness into the realities of the appalling conditions necessary for raising billions of animals for food have led many people to adopt cruelty-free lifestyles. Even the UK's Advertising Standards Authority ruled "
dairy milk can be labelled as inhumane
" - and we've seen milk consumption steadily drop in the UK as well as
25% over the last 20 years in the US
.
Many people are also switching to a vegan diet due to health reasons - and as major health organisations have become aware of the harmful long-term health effects of consuming animal products they are now
increasingly
promoting vegan diets.
The latest USDA Dietary Guidelines Advisory Committee stated:
"a dietary pattern that is higher in plant-based foods and lower in animal-based foods is more health promoting and is associated with lesser environmental impact than is the current average U.S. diet."
The future is looking brighter!
Click Here For More Articles
Don't forget to opt-in to Our Healthy Living Society and get 3 free gifts while receiving the latest information on health, well-being and groundbreaking news about natural nutrition.