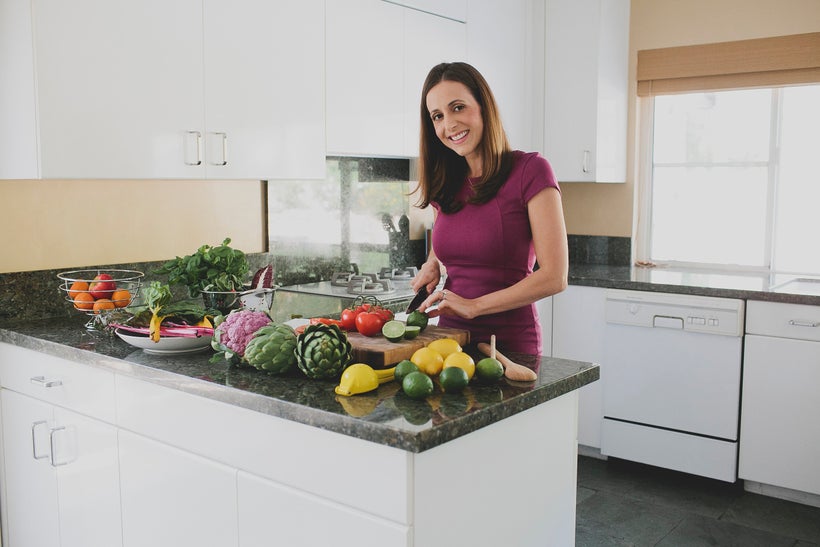 LeeAnn Weintraub
is a Los Angeles-based registered dietitian nutritionist offering nutrition counseling and consulting services to individuals, families and businesses. As an experienced speaker, writer, nutrition expert, and media consultant, LeeAnn translates current scientific evidence into practical lifestyle advice and educates and motivates clients of all ages to reach their health and fitness goals. LeeAnn has extensive experience in medical nutrition therapy and she is certified in child and adolescent weight management.
She received a Bachelor's in Dietetics from James Madison University and a Master's in Public Health from the University of California, Los Angeles.
In addition, LeeAnn has worked on national research studies and has contributed as an analyst to the Academy of Nutrition and Dietetics' Evidence Analysis Library. As a trusted source of credible and practical nutrition information, LeeAnn contributes to local and national news media. She is active with the California Academy of Nutrition and Dietetics as a Public Policy Advocate. She is the co-author of the
Everything Glycemic Index Cookbook
and the nutrition columnist for the
Los Angeles Daily News
and the
Daily Breeze
. Check out her website
here
.
What made you choose this career path?
I have always been intrigued by health and the human body. I knew I wanted to work with people and I really love food. A career as a registered dietitian nutritionist- a food and nutrition expert - was the right choice for me. Studying nutrition and public health inspired me deeply and I admired my professors, which reinforced my decision to be a RDN.
What was your diet like growing up?
My parents have always been healthy eaters and very physically active, so they were great role models. They set the right tone for a positive relationship with food. We ate reasonably balanced meals and fruits and vegetables were always offered. Though my brother and I could always talk my mom into splurging on ice cream. My grandmother was a fantastic cook and I have fond memories of special occasions around the dinner table at her home.
You are a registered dietitian nutritionist. What's the difference between a dietitian and a nutritionist? What does it mean to be both? And what does it mean to be registered?
My professional title is registered dietitian nutritionist (RDN), which is often referred to as a registered dietitian (RD). These terms are interchangeable and a nutrition professional with one of these credentials after their name has complete a bachelor's or master's degree in nutrition/dietetics at an accredited university, has completed a dietetic internship (at least 1,200 hours of supervised pre-professional experience) and has passed the registered dietitian exam. In addition, registered dietitians must complete professional continuing education to maintain their credentials. The term "nutritionist" is not regulated. RDNs can call themselves nutritionists, but not all nutritionists can call themselves RDNs.
What kind of training did you undergo/certification you received for your career?
I completed a Bachelor's degree in nutrition and dietetics at James Madison University (Harrisonburg, VA) and a Master's degree in Public Health at UCLA. My dietetic internship was at the VA Greater Los Angeles Healthcare System.
If you could persuade people to change three things about their diet, what would they be?
Eat more veggies, try to prepare and enjoy home-cooked food more often, eat until you are satisfied, not stuffed.
The glycemic index is a value placed on foods based on how they affect the blood sugar. The glycemic index or eating low glycemic meals may be helpful to people with prediabetes, obesity and polycystic ovarian syndrome, for example.
When you go out to eat with friends and family, do they feel that you're judging what they eat? Do you offer them or do they ask you for advice/suggestions?
Gosh, I hope my friends and family don't think I judge their eating habits. People who know me know that I am non-judgmental about others' food choices and my clients appreciate my non-judgmental approach. Though I have been told by acquaintances when invited to their homes for dinner that knowing a RDN was coming for dinner made them anxious about what to cook. People do ask questions about their nutrition concerns, but I don't give unsolicited advice. I'm not the food police.
Are there any books, magazines, newsletters, podcasts or websites you would recommend for those who want to become better educated about diet and nutrition?
There are a lot of good resources, but there is also a lot of misinformation out there. Be careful about searching for diet advice on the internet. I really like
EatingWell.com
for healthy recipes. They publish a print magazine as well. My colleague, Sharon Palmer, has written some great books on plant-powered eating.
What are some of the most common nutritional mistakes you observe in your clients?
Not tracking food intake, eating excess portion sizes, falling for foods that are marketed as healthy when, in fact, they are mediocre, not planning their meal.
What are your thoughts about fasting as a dietary technique?
There is some interesting research on intermittent fasting (IF) for weight loss and improved health. I don't think IF is for everyone, especially folks who need to eat regularly due to medications or health problems or those with a complicated relationship with food or a history of disordered eating. The science is very interesting and I predict IF will continue to grow in popularity.
What is detoxification and how do you feel about the need for it?
I do not promote detoxes or cleanses. They typically do not provide adequate nutrients and people who use them for weight loss will gain weight back once regular eating habits are resumed. A long-term, sustainable approach to balanced eating is best.
What kinds of tools and methods do you use to help your clients achieve their goals?
I recommend tracking applications like MyFitnessPal or LoseIt!, fitness trackers like Fitbit, and good old fashion measuring cups to name a few useful tools. I also find some clients benefit from meal delivery kits like Blue Apron and Greenblender to simplify their meal planning.
You've worked on national research studies. Anything you can reveal from them?
I participated in a study looking at motivational interviewing to help families with overweight children, which found that registered dietitians can effectively use motivational interviewing to help children and families make lifestyle and eating changes to improve weight. Motivational interviewing is a counseling approach, developed by psychologists and initially used in the field of smoking cessation, to help clients resolve ambivalent feelings to find internal motivation to change behavior.
You are a Public Policy Advocate for the California Academy of Nutrition and Dietetics. What does that involve? And what kinds of things are you advocating?
As a Public Policy Advocate for the California Academy of Nutrition and Dietetics I represent California RDNs in all legislative, regulatory and reimbursement issues related to the dietetics profession. I communicate with my local officials to let them know our concerns about how current legislation effects the public's nutrition.
What's a typical day's breakfast, lunch, and dinner for you?
Good question. Every day is different, but here's an example: Whole grain toast, avocado and an egg for breakfast; tuna, white beans and arugula salad for lunch; yogurt and pistachios for a snack; and chicken with roasted vegetables for dinner.
Do you give in to any culinary guilty pleasures?
Yes, all the time. I enjoy eating at restaurants, but when ordering desserts I often share with others. I love affogato - espresso with vanilla ice cream!
What can someone expect to happen during one of your nutritional consultations?
My clients leave an initial session with goals and a plan. I spend a lot of time getting to know my clients and learning about their lives so I can provide truly customized advice. It's important to me that they leave the initial session with a clear understanding of what to eat and how to move forward with their daily nutrition plan.
What happens during the Pantry Makeover and Grocery Store Tours that you offer?
These are more in-depth services I offer that are very hands-on and educational. These help clients learn more about how to choose foods at the grocery store, what foods to stock in their kitchens and how to plan balanced meals.
Are organic foods worth the price?
I could write an entire article on this subject and barely scratch the surface. I think the Environmental Working Group has some great information about pesticides and the Dirty Dozen. Organic food doesn't always mean healthier food, but some organic foods are worth buying. As consumers demand more organic foods the prices will likely continue to improve.
What's your take on vegetarianism and veganism?
I work with many plant-based eaters and believe that vegetarian and vegan diets can be very healthy. However, it's important to speak with a registered dietitian when starting this kind of diet to make sure you are getting the nutrients you need.
Two of the most common health concerns today are diabetes and high blood pressure. What are your suggestions for avoiding and/or managing them?
Maintaining a healthy weight is key to preventing chronic illness including diabetes and heart disease. Exercise and balanced eating!
How important is exercise and how much of it/what kind do you yourself do?
Physical activity and everyday movement are vital for good health and longevity. Some people focus primarily on cardiovascular activity but fall short in strengthening exercises. Strength training can be very beneficial for building and maintaining muscle mass, protecting bone health and keeping up a healthy metabolism. I personally enjoy running, hiking, swimming, and chasing after my kids!
Click Here For More Articles
Don't forget to opt-in to Our Healthy Living Society and get 3 free gifts while receiving the latest information on health, well-being and groundbreaking news about natural nutrition.