Vegan, gluten-free, grain-free, nut-free, refined sugar-free, soy-free
Meet your new favourite summer salad! This delightful combination of strawberries, avocado, basil, and tomatoes is tossed with a touch of extra-virgin olive oil, and drizzled with homemade balsamic reduction for a refreshing, lightly sweet salad that's great on a hot day. This recipe is lightly adapted from the Love and Lemons Cookbook (2016).

Yield


Serves 2
Prep Time


10 Minutes
Cook time


10 Minutes
Total Time


20 Minutes
Ingredients:
1/3 cup (80 mL) balsamic vinegar

1 cup (135 g) hulled and sliced strawberries

1 cup (160 g) grape or cherry tomatoes, halved

1 medium ripe avocado, pitted and diced

1/3 cup (8 g) loosely packed basil leaves, chiffonade cut

1 1/2 teaspoons extra-virgin olive oil

Pink Himalayan salt or fine sea salt, to taste

Freshly ground black pepper, to taste

Toasted sesame seeds or chopped pecans, for serving
Directions:
I

n a small saucepan, bring the vinegar to a simmer over medium heat.

Once the vinegar starts to simmer, reduce the heat to medium-low, and simmer for 6 to 10 minutes, uncovered, until the vinegar thickens, and reduces in volume by half. Set aside.

Meanwhile, add the strawberries, tomatoes, avocado, and basil into a large shallow bowl.

Drizzle on the oil and gently toss until the veggies are coated. Season generously with salt and pepper and toss again just briefly.

Scatter on your desired amount of toasted seeds or nuts. Drizzle on all of the balsamic reduction.

Serve immediately. This salad is definitely best enjoyed fresh, but leftovers can be stored in an airtight container for a few hours if necessary.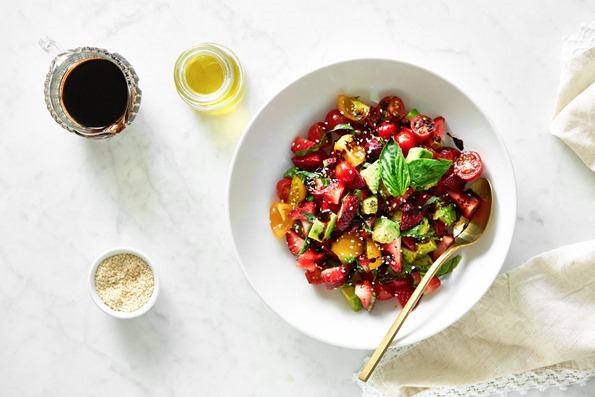 Click Here For More Articles