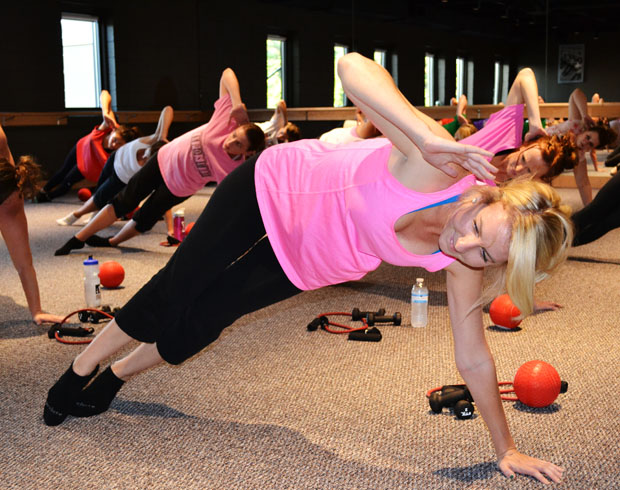 Everyone wants to burn it off and get back on a healthy diet and exercise cycle so that they will be ready for spring break in March.Athens offers so many different fitness options that will be sure to get you back in shape. It seems like there is a gym or boutique fitness studio everywhere you look. The variety of options offers a way to get in shape that will definitely appeal to all the different preferences of college students. Here is a list of the top five fitness trends in Athens that will be sure to keep you motivated and keep you coming back.

1. Orange Theory
Orange Theory fitness is the new fitness craze on the market. This group workout is all based on the heart rate. This heart-pumping 60-minute workout gives you more energy, tones your body and burns extra calories – even after the workout is over. The class consists of three different components: indoor rowing, treadmill training and weight training blocks. Orange Theory's claim to fame is that calories will still be burning 36 hours after the class is over due to the high-intensity interval workout that targets your metabolism. This is also the perfect class for those who love competition. The entire classes heart rate is displayed on a screen throughout the class to motivate every one in there.

2. Pure Barre
Pure Barre is all about the tucking and the toning. Pure Barre uses a low-impact technique that focuses on all the areas that women want to tone most. The use of the ballet bar in the 55-minute class allows for tiny isometric movements tones your body and builds lean muscle. After each toning exercise, there is a stretch section so that all the tension is released and you can comfortably move on to the next exercise. There is also a Pure Barre platform class that is more upbeat and is more focused on cardio and getting your heart rate going. It is guaranteed that you will see results after just 10 classes.

3. Blast
Blast combines cardio interval training and strength conditioning that burns up to 900 calories an hour. Throughout the workout, the 16-person class splits in half and alternates between the floor and the treadmill ever five minutes. The group on the floor uses light weights to target their upper and lower body, while those on the treadmill do sprints and climb hills. This is definitely an intense workout so if you are looking for something low-intensity this is not for you.

4. Chase Street Yoga
Chase Street Yoga is for those who like to mix up their workout routine. It offers a variety of different classes such as gentle yoga, Jillian Michael's bodyshred, Zumba, power yoga and more. Each class works your body in different way so that your muscles will never be bored. All of the instructors offer constant encouragement and motivation that keeps patron coming back each and every day.

5. Above Barre
Above Barre is a class all about strengthening, toning, and lengthening the muscles. It offers three different classes so that there is a class that will suit everyone. There is classic barre, which uses small movements that help with muscle definition. Then, there is core-express, which focuses exclusively on the core and building up the abdominal muscles. Finally, there is HITT cardio barre, which uses high-intensity interval training that gets your heart rate going. No matter what class you choose to attend, you will leave feeling like you have accomplished your fitness goals for the day.

www.redandblack.com/culture/top-fitness-trends-to-get-you-spring-break-ready/article_a021de58-cab4-11e5-a26f-df10a13e335d.html Click Here For More Articles