Vegan, gluten-free, no bake/raw, nut-free, refined sugar-free, soy-free
I created these Glo Bars with new mamas in mind, but rest assured that they can be enjoyed by all! These nut-free Glo Bars contain oats, ground flax, sesame seeds, and coconut oil, all of which are thought to help boost milk supply in breastfeeding women. They are a great no-bake bar to store in the freezer before baby arrives, too; I love to keep a stash in my freezer so I always have some on hand. I purposely made these bars nut- and chocolate-free because, in some cases, these foods can contribute to fussy breastfed babies (of course, every baby is different—tweak as you see fit!). But it also makes them a great nut-free option for after school snacks, too!

Yield

12 bars
Freeze time

10 minutes
Prep Time

15 Minutes
Cook time

0 Minutes
Total Time

15 Minutes
Ingredients:
For the dry ingredients:
1 1/2 cups (150 g) gluten-free rolled oats

3/4 cup (25 g) gluten-free rice crisp cereal

1/4 cup (40 g) white sesame seeds*

1/4 cup (40 g) pepita seeds*

1/4 cup (30 g) ground flaxseed

1/3 cup (45 g) dried cranberries or dried cherries**

2 tablespoons (12 g) unsweetened dried shredded coconut

1/2 teaspoon cinnamon

1/4 teaspoon pink Himalayan salt or fine sea salt
For the wet ingredients:
1/2 cup (125 mL) brown rice syrup***

1 tablespoon (15 mL) pure maple syrup

1/4 cup (63 g) smooth sunflower seed butter****

1/2 tablespoon (7.5 mL) coconut oil

1 teaspoon (5 mL) pure vanilla extract
Directions:
Line a 9-inch square pan with a piece of parchment paper. I like to leave some overhang so the bars are easy to lift out after freezing.

In a large bowl, stir together the dry ingredients (oats, cereal, sesame seeds, pepita seeds, ground flaxseed, dried fruit, coconut, cinnamon, and salt).

Add the brown rice syrup into a small pot over low heat. Stir in the maple syrup, sunflower seed butter, and coconut oil until combined. When the mixture is warm and runny remove from heat. Stir in the vanilla.

Immediately pour the brown rice syrup mixture over the dry ingredients (I use a spatula to scoop every last drop!) and with a large metal spoon, stir until the oats are fully coated in the syrup mixture. This can take some elbow grease, but we don't want any dry patches, so mix well.

Scoop the mixture into the prepared pan and spread out evenly. I like to lightly wet my hands and use them to spread the mixture out. Grab a small pastry roller if you have one, and roll the mixture until even and smooth. Or, simply press down firmly with your hands—the more you pack down the mixture the better the bars hold together. Using your fingertips, press the mixture downward along the edges to create straight edges.

Place the pan in the freezer, uncovered, for about 10 to 15 minutes until the bars firm up enough to slice. Remove the slab and place on a cutting board. With a pizza slicer, slice the bars into 12 equal bars.

Wrap each bar separately in plastic wrap. Store in the fridge for up to 1 week, or freeze the wrapped bars in a freezer-safe zip bag for 4 to 6 weeks. The bars will firm up when chilled. You can let them sit at room temperature for 5–10 minutes before enjoying, if desired.
Tips:
* These bars are great with toasted sesame and pepita seeds, as well as raw.
** To make the bars look extra colourful, like in the photo, I like to scatter the dried cranberries on top (along with a handful of pepitas) before pressing the mixture into the pan.
*** There are no substitutes for brown rice syrup unfortunately. I've tested all different liquid sweeteners and nothing else binds the bars enough.
**** I love using my Homemade Sunflower Seed Butter recipe, or for a store-bought option, Organic Sunbutter (smooth) is my go-to. Make sure it's silky smooth and not dry and hard.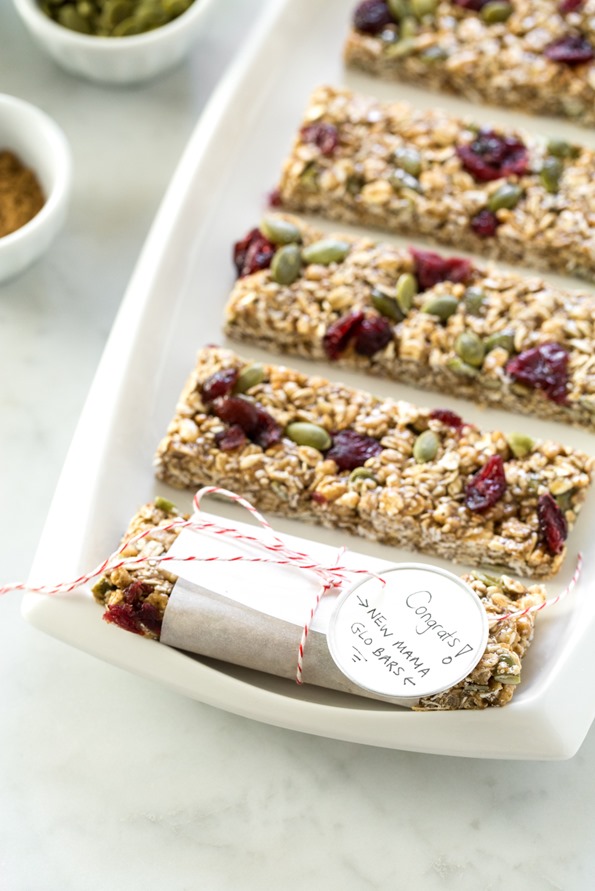 By the way, a batch or two of these bars would make a great gift for a mama-to-be!
http://ohsheglows.com/2016/09/26/new-mama-glo-bars-lactation-friendly-nut-free/
Click Here For More Articles